Project Updates
December 2022
CoH – Sync project draws to a close
An independent report has commended the work of community partners within the border region of Ireland/Northern Ireland and the South West Scotland border region, for their delivery of the EU-funded Community Health Synchronisation (CoH-Sync) project.  Facilitated through CAWT – which this year marks 30 years of cross border health partnership – over 10,000 people have been directly supported to improve their health and well-being over the project's four year duration.
Informed by evidence of the impact of key risks factors on the development of long-term conditions and chronic diseases, the project offered participants tailored support to improve their physical activity levels, nutrition, tobacco and alcohol consumption, mental health, and health literacy. Eight Hubs, led by locally-based organisations in Armagh/Dungannon, Derry City and Strabane District Council Area, Donegal, Fermanagh, Monaghan/Cavan and Dumfries & Galloway in Scotland, and supported by local health systems, delivered personalised well-being plans and follow-up support as well as classes, group activities, signposting and direct referrals to other services and/or opportunities.
The report underscores the value of the project (even amidst the COVID-19 pandemic when strict lockdowns were in place) with participants reporting enhanced emotional wellbeing, increased physical activity and improved diets. The dedicated community health facilitators in each Hub, with their local knowledge and insights, played a key role in reaching and engaging with participants, taking a genuine interest in them and providing accessible opportunities to gain the confidence and skills required to change harmful health behaviours.
In addition to the one-to-one support and personalised well-being plans, Community Hubs also offered classes and group activities both online and in-person, when possible.  Over half of the participants indicated that CoH-Sync's offer was attractive to them because it provided a wide range of flexible options to improve their health and wellbeing which suited their individual circumstances and needs. Feedback indicated that the wide-ranging offer including fitness and cookery classes, befriending and walking groups, and online makeup tutorials was a highly valued feature of the CoH-Sync project.  Classes allowed people to socialise safely with others in a convenient and safe location, either within the Hub or in the comfort of home.
Over the project's four-year lifespan, CoH-Sync was embedded in cross-border communities, working with, and through, existing local organisations and initiatives.  An enduring impact of the project is the new network of Hubs and cross border partnerships and collaborations which have provided integrated health and wellbeing support. Through training and on-the-ground experience, CoH-Sync developed the knowledge and capabilities of those working in the Hubs to provide person-centred support. As a result, the capacity of those organisations and local health systems has been enriched.
For further information on the project and key findings from the evaluation report read more.
July 2022

Emerging findings from the project evaluation report are indicating that the project has successfully delivered on its ambitious targets, creating eight cross border hubs; supporting more than 10,000 beneficiaries; and delivering specialist training programmes across key areas relating to known risk factors for long-term conditions and chronic diseases: alcohol, smoking, mental health, nutrition and physical activity.
Most participants achieved their health goals and offered powerful testimonies of the personal impact the project had on their mental and physical health.
Introduced in 2018, the Community Health Synchronisation project (CoH-Sync) aimed to improve health outcomes and reduce health inequalities experienced by communities located in some of the most deprived areas of the border region between Northern Ireland, the Republic of Ireland and Scotland.
Informed by evidence of the impact of key risks factors on the development of long-term conditions and chronic diseases, the project offered participants tailored place-based support to improve their physical activity levels, nutrition, tobacco and alcohol consumption, mental health, and health literacy.
This offer was provided by eight Hubs led by locally-based organisations with established connections with communities and local health systems. They delivered the project through a peer support model which included: a pre-assessment, developing a personal health and wellbeing plan (or plans), follow-up support (for 6 to 12 weeks), and a post-intervention assessment. In addition, Hubs offered classes, group activities, signposting and direct referrals to other services and/or opportunities.
This report will bring together quantitative and qualitative data from the project with the aim of evaluating its outputs and their impact in the health and wellbeing of its participants. The key findings reveal:
– CoH-Sync was successful at reaching and engaging around 12,000 participants in areas of high deprivation (the bottom two quintiles on quantitative scales of overall deprivation).
– One of the appeals to participants of the CoH-Sync project was the diversity it offered in terms of the areas they could focus on, the activities, services, and support they could access.
– Data recorded in the Data Collection and Reporting Service (DCRS) shows that participants saw a marked improvement in their mental wellbeing, their diets and their physical activity levels.
– The efforts that Hubs employed to make participants feel welcomed and supported was clearly evident, many reported how that had influenced their involvement and their behaviour change.
– The Covid-19 pandemic led to a considerable growth in the demand for emotional well-being support. This was manifest in the increase in the number of participants whose health and wellbeing plans focused on improving their mental health.
– Covid-19 also posed operational challenges for the project in terms of recruiting new participants and continuing to engage and support those who had developed Health and
Wellbeing Plans in the face of new priorities and pressures and Government restrictions.
Nevertheless, the teams involved in CoH-Sync were able to successfully pivot to supporting the local emergency response. Their practical support – such as organising food deliveries, collecting prescriptions, providing information and signposting to further supported – benefited just over 1,500 individuals.
– CoH-Sync enabled a network of Hubs to develop local and cross-border partnerships and collaborations to best provide integrated health and wellbeing support. Through training, experience, new evidence-based approaches and systems, CoH-Sync also developed the knowledge and capabilities of those working in the Hubs to provide person-centred support. As a result, the capacity of those organisations and local health systems has been enriched, enabling them to build on their learnings from CoH-Sync as they develop and deliver new interventions for their communities.
July 2021
Despite the impact of Covid-19, Community Health Sync Hubs continue to thrive with a growing number of people availing of their services. All 8 Hubs, established in local communities throughout the border region in the Republic of Ireland, North of Ireland and South West Scotland, have continued to find innovative ways to enable social inclusion and promote the physical, mental and emotional health and wellbeing of people within a very challenging time.
To date nearly 8,000 people have linked in with Community Health Sync Hubs, to avail of community based supports centred on improving health and wellbeing in relation to physical activity, nutrition, smoking cessation, alcohol misuse and mental health.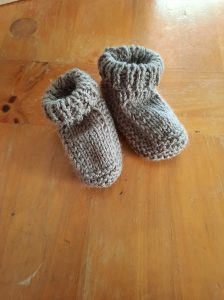 The CoH Sync Team in Donegal Local Development Company (DLDC) has been delivering a wide range of community health interventions throughout lockdown. They have created be-spoke community health interventions that have supported the growing needs of the local population in Co. Donegal including online "Room Jumping" interior design taster sessions, men`s cooking classes, the "10,000 Steps A Day Challenge" and much more. The CoH-Sync team have utilised "Facebook Live" to connect to their growing audience and have set up online knitting classes contributing the items produced to the Neonatal Intensive Care Unit in Letterkenny Hospital. They have also created morning and evening Pilates classes in addition to setting up "Cooking with the Kids" online classes, giving helpful tips to parents and carers on how to reinvent fruit and vegetables into tasty homemade family dinners. More recently, the team have created a Facebook Live gardening programme that coaches participants to grow and take care of their vegetables and flowers at home. The launch of their online book club has been a great success, with participants continuing to meet up each week virtually to discuss and explore a wide variety of new and old books.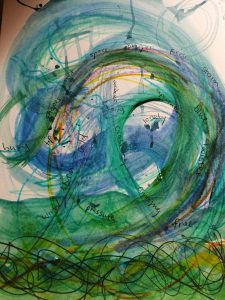 DLDC's Cavan/Monaghan CoH Sync Hub is continuing to adapt to the new 'normal' in providing health and wellbeing support and signposting to people across both counties. The Hub has added to their range of online classes, with the introduction of beginners Zumba and Yoga in the New Year. Favourites such as online cookery, art, mindfulness, life coaching and wool felting classes returned to much delight. Two of the Hub's Community Health Facilitators have now completed accredited Chi Me and Chair Based Activity training and hope to be in a position to deliver classes this summer. Partnerships continue to be formed with local organisations – for example 15 Traveller women in Cavan benefited from a six-week health programme through a collaboration with Extern. The Hub has also worked closely with SICAP colleagues to facilitate respite hours and signposting to 30 family carers across Cavan/Monaghan at a time when it was most needed. As a result, participants received an additional two hours of free time each week to focus on their wellbeing and relaxing their mind and body. Planning is also underway at DLDC Cavan / Monaghan Hub for a new range of spring summer classes to add to existing supports available.
In the North-West, the Bogside and Brandywell Health Forum's (BBHF) CoH-Sync community hub partners (Waterside Neighbourhood Partnership, Strabane Health Improvement Project & Derg Valley Healthy Living Centre), continue to use innovative and highly successful ways of supporting vulnerable adults and families during these uncertain and often challenging times. They have delivered a be-spoke "Take 5 Steps to Well-Being" programme aimed at young women. This intervention offered a wide range of therapeutic support and awareness sessions. In addition, the participants enrolled on this course were given the opportunity to be trained in "Mental Health First Aid". There was a 100% completion rate for MHFA among the participants, thus helping to build capacity at local community level.
All four BBHF Hub partner organisations have delivered a unique "Essential Oils & Complementary Therapies" programme. The intervention is aimed at using essential oils to alleviate stress, anxiety and build positive mental resilience. The feedback from local participants has been excellent and is a well-attended programme. In addition, the Waterside Neighbourhood Partnership has developed the "Time for Me" and "Men's Outdoor Circuits Skills" while the Strabane Health Improvement project have set up a "Soul Food" online food nutrition coaching programme. This online intervention supports local people on how to use affordable everyday household ingredients to make tasty homemade meals that the family will enjoy.
The Chi Me training continues to be a very popular programme across all BBHF's CoH-Sync Community partners. Participants are provided with the skills needed to improve their muscle flexibility and strength. The CoH-Sync team have also set up an online walking club across all four projects areas. This intervention helps participants set physical activity health goals tailored to their unique needs and share new walking routes with each other.
In the Southern Trust Area, Connected Health's CoH-Sync Project Team in Armagh and Dungannon has continued to flourish over the past few months. By using innovative ways to both promote and carry out classes, it has allowed many people to receive much needed help and support during the COVID-19 Pandemic. With continued training, the team have been able to increase free support to cover more areas of health and wellbeing, from talks on cervical and bowel screening awareness and mental health to classes in Chi me and Chair aerobics. Working collaboratively with other community groups/organisations has enabled the Hub to target those most in need. According to CoH Sync Hub Lead, Sinead Donnelly, "although this period has been challenging it has also been rewarding and has allowed us to gain a wealth of experience in a new way of learning and teaching. It has been fascinating to see all generations adapt to the new world of ZOOM. We have witnessed clients using iPads and laptops for the first time and have had the privilege to see a child take their first steps". The CoH Sync Team at Connected Health continue to have enormous impact among participants judging by the feedback received such as:  "Just a wee note to say thank you for the brilliant Chi Me classes. I had been a member of a gym up until the first lockdown, and to be honest had fallen into a bit of a rut. It was so good to have something to get up for. Please, please do another session."
Another participant said, "Loved your classes, living alone at the present time can be lonely and depressing, these classes lift my mood."
The CoH Sync Team at Arc Healthy Living Centre in Enniskillen and West Fermanagh continue their innovative work in engaging clients across the area delivering 1:1 health and wellbeing plans and befriending calls. At Oak Healthy Living Centre, the Coh-Sync Project collaborates with the Social Prescribing team and the Health Co-ordinator within the centre. Many of the participants who engage with the CoH-Sync project have experienced high levels of anxiety and isolation due to the successive lockdowns. Participants are looking to focus on their wellbeing and find ways to reduce anxiety and feel more connected with friends and family. The Team offer online 1-1 services such as the Open Focus relaxation, Colour Breathing and Emotional Freedom Technique, CBT and Counselling services. Participants are also signposted to online Yoga classes in the evening and 30 minutes classes with the CAWT Innovation Recovery project.  The CoH Sync team have also provided a Winter Warmer programme with 2 hot meals per week for 8 weeks and a warm home pack which consisted of Fleece body warmer, thermal under wear, hat and gloves, and a warm throw.
A letter to the Hub by one participant highlighted the excellent supports provided and the impact they made.
"Hi I would like to thank all the people from Oak Healthy Living Centre for being there for me in the last couple of years, but especially the last months when I got a call from (CHF) to see if I was ok, that meant so much to me.  I then got the chance to do the colour breathing with (Tutor). OMG all I can say is it is amazing and its done-on WhatsApp, so I don't have to leave the house.  It really has brought me out of a dark place and all so for (CHF) always being there for me".
At another Arc Hub partner, Lakeland Community Care (LCC), a 6 week CoH-Sync health and wellbeing programme was created focusing on the health and wellbeing of the older population who are shielding due to the Covid 19 restrictions, and as a result often experience high levels of isolation, with no routine and structure to the day. Alongside the 6-week programme the CoH Sync team at the Hub created Health and Wellbeing Mental Agility Packs which included knitting, mindfulness word search and crosswords, colouring, glass painting, stone painting, felt making and bird boxes. All participants received 1:1 support from their community health facilitator who would drop off the pack and two chilled dinners each week.
Both Hubs at NHS Dumfries and Galloway have successfully adapted to maintain CoH Sync services, despite Covid restrictions. Supports continue to be provided via telephone and on-line for people who are experiencing loneliness, isolation and a loss of purpose and social support. Mindfulness courses were offered virtually to participants indicating that they felt less self-conscious taking part on-line and enjoyed taking part in the group from the comfort of their own homes. Health programmes were delivered virtually to groups and individuals who are supporting young adults with learning difficulties. Also Hub staff continued to check in on vulnerable people on a one-to-one basis via phone and zoom, while pharmacy deliveries and doorstep discussions were organised for those shielding.
At Wigtownshire and Stewartry Hub, CoH Sync staff specialised in providing one-to-one supports to people affected by or at high risk of diabetes. Support was also provided to senior students at Wigtownshire High School and Stranraer College both directly online and through social media.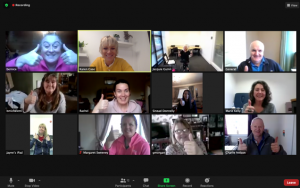 At the Wigtownshire, Hub staff have recently received accredited training on Chi Me and Chair Based Activity (CBA) Training and have begun working with Care Homes to support residents with training in gentle movement and manageable physical activity. There are plans to develop this approach further with Activity Resource Centres who provide day facilities for people with intellectual disabilities. The Nithsdale Hub will be continuing to support individuals through community based work addressing food insecurity and also plan to deliver mindfulness sessions to carers to support them post Covid.  Nightsdale staff have also completed accredited training in Chi Me and CBA and are working remotely with community groups to deliver the training in partnership with psychology colleagues.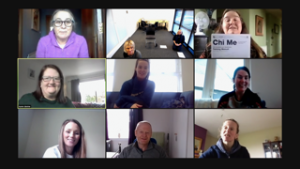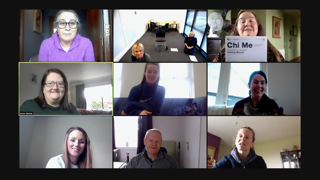 Community Health Facilitators from all Hub areas learning new skills as participants in the Chair-based Activity training.
CoH-Sync Hub staff taking part in the Chi-me training delivered by LifeDock.
December 2020
CAWT's Community Health Sync Project continues to implement a cross border, and community-based, approach to promoting healthier lifestyles targeting the risk factors associated with Long Term Conditions.
The project has successfully adapted to maintain delivery of CoH-Sync services; to date over 7,000 people have benefited from CoH-Sync services. Common to all 8 CoH-Sync Hubs throughout the pandemic has been the quality and level of partnership, between the many community organisations involved, which is helping address health inequalities in the border region.
In the North West, the Bogside and Brandywell Health Forum (BBHF) and North Donegal Local Development Company (NDLDC) have demonstrated great community development spirit and determination ensuring that the most vulnerable in society were supported during these uncertain times. Community support has included online health interventions, phone call support and socially distanced engagement. From September 2020 to November 2020 BBHF Community Health Facilitators delivered 96 personalised health and wellbeing plans. Support ranged from socially distanced boot camps and walking groups to online Zumba classes. Community Health Facilitators provided over 192 health interventions and made over 384 phone calls/virtual support follow-up calls to ensure that participants remained on track to achieve their personal health goals.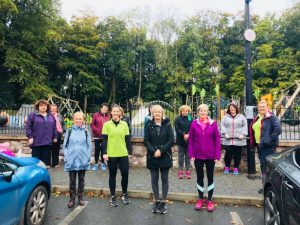 The NDLDC team developed online health initiatives such as "Do You Wear You?" and online photography classes which were delivered from September 2020 to November 2020. These innovative online health initiatives catered to a wide range of needs in local communities. NDLDC Community Health Facilitators provided 103 personalised health and wellbeing plans, over 206 health interventions and over 412 follow-up phone calls and virtual support.
In the Southern Trust area, the Connected Health CoH-Sync Team recognised the detrimental impact of Covid-19 on communities with the closures of local groups, facilities and organisations in the Armagh and Dungannon area. The HSC Take 5 Steps to Wellbeing model was incorporated into programmes demonstrating how staying active and connected improves mental health and wellbeing. Programmes included 'Walk and Talk,' 'Chi-Me' and fitness classes; subsequent positive feedback from participants endorses the need for CoH-Sync activities and support to continue.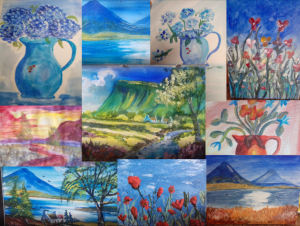 The Cavan/Monaghan CoH-Sync Hub has extended its range of online courses to include beginners art classes, life coaching and mindfulness which proved very popular over recent months. The team quickly addressed gaps identified locally and have provided interventions to almost 120 participants since August 2020. Planning is currently underway to introduce more variety and content to their online programmes with 'wool felting' and 'mindful movements' in the pipeline for 2021. Two Community Health Facilitators are upskilling in chair-based activity and are looking forward to rolling out this new activity in early 2021.
The Fermanagh Hub, which consists of the ARC Healthy Living Centre, the Oak Healthy Living Centre and Lakeland Community Care, continues to effectively support local communities. Community Health Facilitators have been able to connect participants, by accessing remotely and online, with local health initiatives and support organisations. They have worked closely with a wide range of partners including the Social Prescribing team, 'Stepping On Programme,' befriending call services, community outreach care workers, local GPs, Health Promotion teams and the Covid-19 Response teams. Since early September, over 80 people have been supported to complete a 6-week personalised health and wellbeing plan, enabling each person to achieve their personalised goal(s) set. Resources and interventions have been delivered which focus on health awareness on topics such as mental health, physical activity, nutrition, smoking and alcohol. Up-to-date information and advice has been provided in response to local restrictions helping to reduce the anxiety felt throughout the community.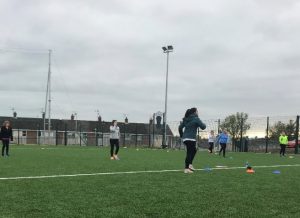 The South Donegal team have pulled out all stops to create a variety of inclusive free online wellbeing classes and workshops. From early September Community Health Facilitators have supported over 100 people to create personalised health and wellbeing plans. They provided 1:1 support to assist participants achieve goals set, keeping them engaged and connected using online platforms.
Participant feedback has been very positive; taking part in new and creative workshops such as 'Art for Wellbeing' and 'Photography & Wellbeing' created space for participants to focus on their wellbeing and reduce the stresses and distractions around them.
Clients have enjoyed feeling connected and being part of positive and rewarding activities. Significantly many have reported that engaging in CoH-Sync activities has given them the confidence to take part in other groups.
Whilst opportunities for signposting to community activities have been reduced for NHS Dumfries and Galloway's Dumfries CoH-Sync Hub staff, support continues to be provided via telephone and remote video support for people who are experiencing loneliness, isolation and a loss of purpose and social support. The Hub has successfully delivered an 8-week mindfulness course virtually; participants have indicated they feel less self-conscious taking part online and enjoy taking part in the group from the comfort of their own homes. The Hub is also working with Fareshare, the UK's largest charity fighting hunger and food waste, working door-to-door on food delivery rounds in the community and forging relationships between clients and staff. People are keen to connect and welcome the human contact in these difficult times.
CoH-Sync Wigtownshire continue to create innovative ways to support the local community in making changes to their lifestyle choices and to enable individuals to maintain positive health and wellbeing during the Covid-19 pandemic. With the support of the NHS Dumfries and Galloway CoH-Sync Team individuals have been referred, virtually and by phone call, to the local Health and Wellbeing Team via professional and community referral pathways and are encouraged to complete a person-centred Health and Wellbeing Plan. Engagement is ongoing with community partners to set up new health programmes for 2021. In December three new Health and Wellbeing Facilitators have started employment in both the Wigtownshire and Stewartry area of Dumfries and Galloway. Plans are in place to deliver two health programmes to groups who support young adults with learning disabilities; plans are in discussion to support senior students at Wigtownshire High schools and Stranraer College. The CoH-Sync Wigtownshire Team look forward to the positive differences they can bring to the lives of the Wigtownshire community in 2021 and plan to be more active and visible in the community, amidst the pandemic, as the year develops.
With the guidance of the CoH-Sync Project Officers, Hubs continue to populate and support the refining of the Data Collection and Reporting System (DCRS),  the comprehensive and accessible health information database being developed to measure the impact of the Hub health and wellbeing improvement activities.
September 2020
The eight locality-based CoH-Sync Hubs are making good progress in providing health and wellbeing support in their local communities. To date, over 6,000 people have benefited from CoH-Sync services and support in areas such as physical activity, mental health, nutrition, smoking and alcohol use.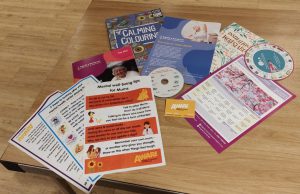 Responding to COVID-19 restrictions, the project adapted its service delivery to support hundreds of individuals living in social isolation. Despite the challenges faced, the CoH-Sync Hubs have shown how responsive, innovative and adaptable they can be in a time of crisis.
Local residents and families were supported through online support, street exercise classes and mental health resilience packs by the Bogside & Brandywell Health Forum and the North Donegal Local Development (DLDC) CoH-Sync Community Hubs.
Throughout the Covid-19 lockdown they provided support in both rural and urban communities including the delivery of warm meals, food parcels and support phone and video calls to the most vulnerable in the community.
CAWT's CoH-Sync community partners designed bespoke online interventions to ensure that the project remained relevant to meet the needs of the local population.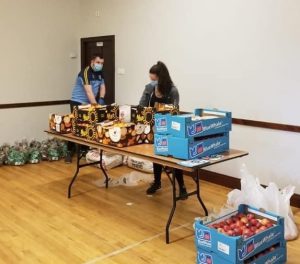 Similarly, the South Donegal Local Development with the Fermanagh based Hub managed by the ARC Healthy Living Centre in partnership with Oak Healthy Living Centre, Lakeland Community Care and Fermanagh Rural Community Network, adapted the way in which they work to maintain delivery of CoH-Sync throughout County Donegal and Fermanagh.
In Donegal, both CoH-Sync Hubs are using the power of online platforms to support people around their health and wellbeing needs and goals, delivering weekly cookery, meditation, art, gardening  and physical activity classes along with 1:1 support.
Fermanagh Hub partners are also working hard to support their local community:
carrying out befriending calls to people who are shielding and may be feeling isolated and detached
delivering prescriptions and food parcels to families in need
delivering health and wellbeing plans with 1:1 support
Connection is more important than ever, so DLDC and the Fermanagh Hub partners continue to encourage participants and the Community Health Facilitators to take part and enjoy a weekly virtual tea break to support those feeling isolated to connect over a cup of tea or coffee.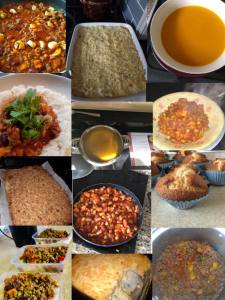 Responding to the restrictions of the Covid-19 lockdown the Cavan Monaghan CoH-Sync Hub team not only adapted, but extended, their service and supports. This included the development and rollout of their first online health programme; this 6-week cookery course, delivered on Facebook, focused on healthy and nutritious meals using the HSE/Safefood '101+ Square Meals' recipe book.
Chef Stephan Zeltner from the Tusla Child Wellbeing Centre in Castleblayney, Co. Monaghan, kindly demonstrated a different dish each week. The team of Community Health Facilitators supported each participant over the 6-week period. They helped them set a health goal and provided information resources, along with their own personalised health plan. The programme proved to be a great success. Thirty participants took part in the programme in Monaghan; the Cavan course was fully subscribed for August 2020.
The team plan to replicate the success of the programme across other health and wellbeing topics; participants will avail of interventions online and offline, depending on their own individual circumstances.
Testimonial
Brenda Hurson, course participant: "I found this course extremely enjoyable. The videos were wonderfully done and I enjoyed the variety of recipes."
The Connected Health Armagh Dungannon CoH-Sync Hub quickly adapted the delivery of the project in several ways to ensure that support continued to be provided to adults in the Armagh and Dungannon area. A new leaflet was produced to inform the community of further supports being offered, such as friendly calls, food and/or medication pick-up and drop-offs, as well as the distribution of information resources (e.g. the HSC Take 5 Steps to Wellbeing flyer, list of useful contact numbers, puzzles, mindfulness App). Several CoH-Sync Community Health Facilitators worked alongside community groups and health and social care services to help with the delivery of food and other essentials to the elderly and at risk groups. The Hub also used its Facebook page daily to signpost people to help and support as well as offering support themselves through, for example, online 'Chi me' classes. These responsive actions taken by the Hub have helped to recruit new participants to the project and promoted community awareness about the support they offer free of charge.
Project Updates 2018
| | |
| --- | --- |
| Oct 2018 | SHSCT Hub commenced |
| Aug 2018 | Two Scottish Hubs commenced in the NHS Dumfries and Galloway area |
| May 2018 | 5 Health and Well-being Hubs awarded contracts (three in the HSE and two in the WHSCT) |
| Feb 2018 | Project Manager appointed and takes up post |