Project Update – December 2020
CAWT's Community Health Sync Project continues to implement a cross border, and community-based, approach to promoting healthier lifestyles targeting the risk factors associated with Long Term Conditions.
The project has successfully adapted to maintain delivery of CoH-Sync services; to date over 7,000 people have benefited from CoH-Sync services. Common to all 8 CoH-Sync Hubs throughout the pandemic has been the quality and level of partnership, between the many community organisations involved, which is helping address health inequalities in the border region.
In the North West, the Bogside and Brandywell Health Forum (BBHF) and North Donegal Local Development Company (NDLDC) have demonstrated great community development spirit and determination ensuring that the most vulnerable in society were supported during these uncertain times. Community support has included online health interventions, phone call support and socially distanced engagement. From September 2020 to November 2020 BBHF Community Health Facilitators delivered 96 personalised health and wellbeing plans. Support ranged from socially distanced boot camps and walking groups to online Zumba classes. Community Health Facilitators provided over 192 health interventions and made over 384 phone calls/virtual support follow-up calls to ensure that participants remained on track to achieve their personal health goals.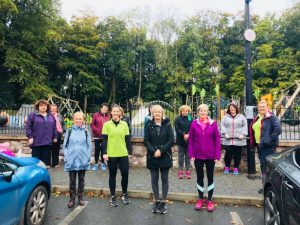 The NDLDC team developed online health initiatives such as "Do You Wear You?" and online photography classes which were delivered from September 2020 to November 2020. These innovative online health initiatives catered to a wide range of needs in local communities. NDLDC Community Health Facilitators provided 103 personalised health and wellbeing plans, over 206 health interventions and over 412 follow-up phone calls and virtual support.
In the Southern Trust area, the Connected Health CoH-Sync Team recognised the detrimental impact of Covid-19 on communities with the closures of local groups, facilities and organisations in the Armagh and Dungannon area. The HSC Take 5 Steps to Wellbeing model was incorporated into programmes demonstrating how staying active and connected improves mental health and wellbeing. Programmes included 'Walk and Talk,' 'Chi-Me' and fitness classes; subsequent positive feedback from participants endorses the need for CoH-Sync activities and support to continue.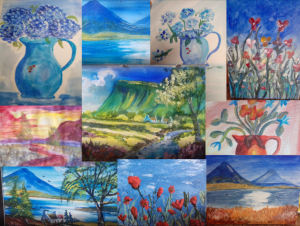 The Cavan/Monaghan CoH-Sync Hub has extended its range of online courses to include beginners art classes, life coaching and mindfulness which proved very popular over recent months. The team quickly addressed gaps identified locally and have provided interventions to almost 120 participants since August 2020. Planning is currently underway to introduce more variety and content to their online programmes with 'wool felting' and 'mindful movements' in the pipeline for 2021. Two Community Health Facilitators are upskilling in chair-based activity and are looking forward to rolling out this new activity in early 2021.
The Fermanagh Hub, which consists of the ARC Healthy Living Centre, the Oak Healthy Living Centre and Lakeland Community Care, continues to effectively support local communities. Community Health Facilitators have been able to connect participants, by accessing remotely and online, with local health initiatives and support organisations. They have worked closely with a wide range of partners including the Social Prescribing team, 'Stepping On Programme,' befriending call services, community outreach care workers, local GPs, Health Promotion teams and the Covid-19 Response teams. Since early September, over 80 people have been supported to complete a 6-week personalised health and wellbeing plan, enabling each person to achieve their personalised goal(s) set. Resources and interventions have been delivered which focus on health awareness on topics such as mental health, physical activity, nutrition, smoking and alcohol. Up-to-date information and advice has been provided in response to local restrictions helping to reduce the anxiety felt throughout the community.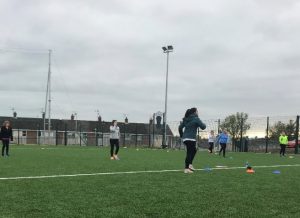 The South Donegal team have pulled out all stops to create a variety of inclusive free online wellbeing classes and workshops. From early September Community Health Facilitators have supported over 100 people to create personalised health and wellbeing plans. They provided 1:1 support to assist participants achieve goals set, keeping them engaged and connected using online platforms.
Participant feedback has been very positive; taking part in new and creative workshops such as 'Art for Wellbeing' and 'Photography & Wellbeing' created space for participants to focus on their wellbeing and reduce the stresses and distractions around them.
Clients have enjoyed feeling connected and being part of positive and rewarding activities. Significantly many have reported that engaging in CoH-Sync activities has given them the confidence to take part in other groups.
Whilst opportunities for signposting to community activities have been reduced for NHS Dumfries and Galloway's Dumfries CoH-Sync Hub staff, support continues to be provided via telephone and remote video support for people who are experiencing loneliness, isolation and a loss of purpose and social support. The Hub has successfully delivered an 8-week mindfulness course virtually; participants have indicated they feel less self-conscious taking part online and enjoy taking part in the group from the comfort of their own homes. The Hub is also working with Fareshare, the UK's largest charity fighting hunger and food waste, working door-to-door on food delivery rounds in the community and forging relationships between clients and staff. People are keen to connect and welcome the human contact in these difficult times.
CoH-Sync Wigtownshire continue to create innovative ways to support the local community in making changes to their lifestyle choices and to enable individuals to maintain positive health and wellbeing during the Covid-19 pandemic. With the support of the NHS Dumfries and Galloway CoH-Sync Team individuals have been referred, virtually and by phone call, to the local Health and Wellbeing Team via professional and community referral pathways and are encouraged to complete a person-centred Health and Wellbeing Plan. Engagement is ongoing with community partners to set up new health programmes for 2021. In December three new Health and Wellbeing Facilitators have started employment in both the Wigtownshire and Stewartry area of Dumfries and Galloway. Plans are in place to deliver two health programmes to groups who support young adults with learning disabilities; plans are in discussion to support senior students at Wigtownshire High schools and Stranraer College. The CoH-Sync Wigtownshire Team look forward to the positive differences they can bring to the lives of the Wigtownshire community in 2021 and plan to be more active and visible in the community, amidst the pandemic, as the year develops.
With the guidance of the CoH-Sync Project Officers, Hubs continue to populate and support the refining of the Data Collection and Reporting System (DCRS),  the comprehensive and accessible health information database being developed to measure the impact of the Hub health and wellbeing improvement activities.
Project Update – September 2020
The eight locality-based CoH-Sync Hubs are making good progress in providing health and wellbeing support in their local communities. To date, over 6,000 people have benefited from CoH-Sync services and support in areas such as physical activity, mental health, nutrition, smoking and alcohol use.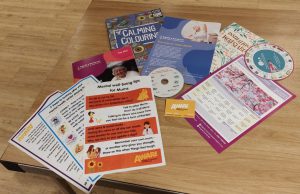 Responding to COVID-19 restrictions, the project adapted its service delivery to support hundreds of individuals living in social isolation. Despite the challenges faced, the CoH-Sync Hubs have shown how responsive, innovative and adaptable they can be in a time of crisis.
Local residents and families were supported through online support, street exercise classes and mental health resilience packs by the Bogside & Brandywell Health Forum and the North Donegal Local Development (DLDC) CoH-Sync Community Hubs.
Throughout the Covid-19 lockdown they provided support in both rural and urban communities including the delivery of warm meals, food parcels and support phone and video calls to the most vulnerable in the community.
CAWT's CoH-Sync community partners designed bespoke online interventions to ensure that the project remained relevant to meet the needs of the local population.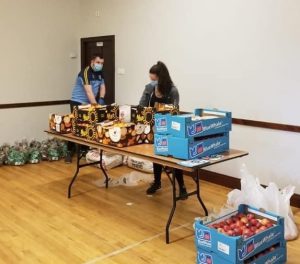 Similarly, the South Donegal Local Development with the Fermanagh based Hub managed by the ARC Healthy Living Centre in partnership with Oak Healthy Living Centre, Lakeland Community Care and Fermanagh Rural Community Network, adapted the way in which they work to maintain delivery of CoH-Sync throughout County Donegal and Fermanagh.
In Donegal, both CoH-Sync Hubs are using the power of online platforms to support people around their health and wellbeing needs and goals, delivering weekly cookery, meditation, art, gardening  and physical activity classes along with 1:1 support.
Fermanagh Hub partners are also working hard to support their local community:
carrying out befriending calls to people who are shielding and may be feeling isolated and detached
delivering prescriptions and food parcels to families in need
delivering health and wellbeing plans with 1:1 support
Connection is more important than ever, so DLDC and the Fermanagh Hub partners continue to encourage participants and the Community Health Facilitators to take part and enjoy a weekly virtual tea break to support those feeling isolated to connect over a cup of tea or coffee.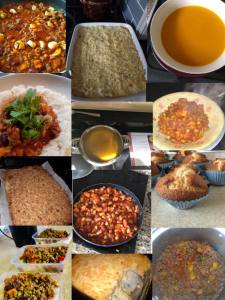 Responding to the restrictions of the Covid-19 lockdown the Cavan Monaghan CoH-Sync Hub team not only adapted, but extended, their service and supports. This included the development and rollout of their first online health programme; this 6-week cookery course, delivered on Facebook, focused on healthy and nutritious meals using the HSE/Safefood '101+ Square Meals' recipe book.
Chef Stephan Zeltner from the Tusla Child Wellbeing Centre in Castleblayney, Co. Monaghan, kindly demonstrated a different dish each week. The team of Community Health Facilitators supported each participant over the 6-week period. They helped them set a health goal and provided information resources, along with their own personalised health plan. The programme proved to be a great success. Thirty participants took part in the programme in Monaghan; the Cavan course was fully subscribed for August 2020.
The team plan to replicate the success of the programme across other health and wellbeing topics; participants will avail of interventions online and offline, depending on their own individual circumstances.
Testimonial
Brenda Hurson, course participant: "I found this course extremely enjoyable. The videos were wonderfully done and I enjoyed the variety of recipes."
The Connected Health Armagh Dungannon CoH-Sync Hub quickly adapted the delivery of the project in several ways to ensure that support continued to be provided to adults in the Armagh and Dungannon area. A new leaflet was produced to inform the community of further supports being offered, such as friendly calls, food and/or medication pick-up and drop-offs, as well as the distribution of information resources (e.g. the HSC Take 5 Steps to Wellbeing flyer, list of useful contact numbers, puzzles, mindfulness App). Several CoH-Sync Community Health Facilitators worked alongside community groups and health and social care services to help with the delivery of food and other essentials to the elderly and at risk groups. The Hub also used its Facebook page daily to signpost people to help and support as well as offering support themselves through, for example, online 'Chi me' classes. These responsive actions taken by the Hub have helped to recruit new participants to the project and promoted community awareness about the support they offer free of charge.
Project Updates 2017-2018
| | |
| --- | --- |
| Oct 2018 | SHSCT Hub commenced |
| Aug 2018 | Two Scottish Hubs commenced in the NHS Dumfries and Galloway area |
| May 2018 | 5 Health and Well-being Hubs awarded contracts (three in the HSE and two in the WHSCT) |
| Feb 2018 | Project Manager appointed and takes up post |
| Nov 2017 | A public procurement exercise begun for the establishment of the 8 Health and well-being Hubs |
| June 2017 |  Project receives final Letter of Offer from the Special EU programmes Body for EU INTERREG VA programme grant funding up to the value of €5.01 million |