Community Engagement
26th April – 10th May Free Well-Being workshops
See below for details and how to register to book a place.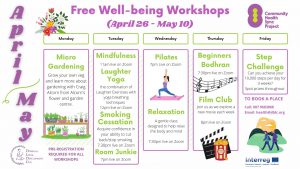 8th – 26th March Free Well-Being workshops
See below for details and how to register to book a place.
Local Information Events – Community Health and Well-being hubs.
Flyer For Community Engagement Events FINAL
Community Health Sync Project June 2017 For Website
Could you contribute to health and well-being in your local community?
EU INTERREG VA programme funding has been secured by the Co-operation and Working (CAWT) cross border Health and Social Care Partnership for the development of Community Health and Well-being Hubs in the border region of the Republic of Ireland/Northern Ireland and Western Scotland.
The 'CoH-Sync' (Community Health Sync) Project wishes to establish 8 Health and Well-being Hubs designed to support people in improving their health and wellbeing, particularly around the areas of physical activity, nutrition, smoking cessation, alcohol misuse and mental health.
Project Partners include the HSE, the Southern Health and Social Care Trust, the Western Health and Social Care Trust, the Public Health Agency (NI) and NHS Dumfries and Galloway.
The Project Partners are keen to inform and receive feedback from representatives of local groups and organisations on the plans to establish these Health and Well-being Hubs in local communities. Thus, a series of information events has been scheduled for late June 2017. These information exchanges will enable those developing the Project to take into consideration local views and will help determine how best to shape the Project so it meets the needs of people and communities.
Commenting on the opportunity the CoH-Sync Project presents to local communities, the project representatives have said: "Anybody who feels that they can contribute to the development of this community based health and well-being project is welcome to attend. We would like to ensure that as many local people and groups come along and contribute their opinions and views on how the health and well-being of the target communities can be improved via the CoH-Sync project."
As agreed with the EU funders – the Special EU Programmes Body, the CoH-Sync Project will be establishing the Health and Well-being Hubs in the following 6 areas: Strabane / Derry; Letterkenny / North Donegal; Ballyshannon / South Donegal; Armagh / Dungannon;  Enniskillen / West Fermanagh and Cavan / Monaghan. Two more Hubs will be established in Western Scotland to form a network of 8 Health and Well-being Hubs across the 3 regions.
To register your attendance at an information event, please email fiona.lafferty@westerntrust.hscni.net, (Contact telephone: 00 44 (0)28 71272100) stating your name and contact details including which organisation you represent (if any), and which of the scheduled events you wish to attend.
Area
Venue
Date
Time
Strabane (Strabane / Derry Hub)
Strabane Enterprise Agency
Orchard Road Industrial Estate, Strabane
19 June 2017
10am to 12 noon
Letterkenny (Letterkenny / North Donegal Hub)
LYIT, Port Road, Letterkenny
19 June 2017
2.30pm to 4.30pm
Ballyshannon (Ballyshannon / South Donegal Hub)
Lakeside Centre, Ballyshannon
20 June 2017
11.00am to 1pm
Dungannon (Armagh / Dungannon Hub)
The Junction, Dungannon
21 June 2017
10am to 12pm
Enniskillen (Enniskillen / West Fermanagh Hub)
The Aisling Centre, Darling Street, Enniskillen
22 June 2017
2pm to 4pm
Monaghan (Cavan / Monaghan Hub)
The Peace Link Sports Facility, Clones, Co  Monaghan
26 June 2017
7pm to 9pm