'Sharing Early Experiences in the Management of Covid-19′: CAWT sponsors cross border event
November 26, 2020
'Sharing Early Experiences in the Management of Covid-19', a CAWT-sponsored cross border, multi-agency virtual workshop was held on 25 November 2020.
Emergency and major incident planning experts shared their knowledge and experience from their early responses to the coronavirus pandemic with a wide range of delegates from the Health Services in NI and RoI, and both Irish and UK defence personnel.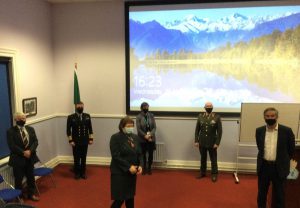 Hosted by the United Nations Training School Ireland, at the Curragh in Co. Kildare, the event was facilitated by Dr Tim Healing, from the Faculty of Conflict and Catastrophe Medicine at the Worshipful Society of Apothecaries of London.
Following a welcome address by Minister Simon Coveney TD, keynote speakers presented on behalf of the Western Health and Social Care Trust, the Health Service Executive, the Public Health Agency, the Irish Defence Forces, the UK Military, the Business Services Organisation's PALs Division, the Department of Health NI, and C-TRIC (NI).
Commenting on the significance of the all-island event, CAWT Chief Officer, Bernie McCrory said:
"I am grateful to the many eminent medical and defence experts who have made today's workshop possible. The coronavirus pandemic presents the greatest public health challenge we have faced in our lifetimes. By combining forces and sharing learning and research we sustain our efforts to maintain the fight against it.

"Today's all-island workshop, and the many other educational north/south activities undertaken by CAWT and partner agencies over past years, consolidates the shared sense of identity and purpose fostered between the cross border agencies involved in emergency planning and tasked with safeguarding the health of the citizens of the island of Ireland."
Delegates benefited from research and learning shared on Covid-19 as follows:
COVID-19 (SARS-CoV-2): The Pandemic and the Virus – Worshipful Society of Apothecaries of London, Faculty of Conflict and Catastrophe Medicine
2nd Med Bde contribution to NHS in support of Covid19 response – UK Military Medical personnel
The Irish Defence Forces Approach – Óglaigh na hÉireann Irish Defence Forces
HSE Perspective – Health Service Executive (Ireland)
NI Health Service Perspective – Public Health Agency (Northern Ireland)
Test and tracing apps in NI – Department of Health (Northern Ireland)
Public Health Challenges in ROI – Health Service Executive (Ireland)
Test and tracing challenges in ROI – Health Service Executive (Ireland)
Covid-19 vaccine studies and other Urgent Public Health Covid-19 studies – Clinical Translational Research and Innovation Centre (C-TRIC, Northern Ireland)
Frontline clinical response from an Acute Perspective – Western Health and Social Care Trust
Procurement Challenges particularly PPE aspects – Business Services Organisation PALs Division
Psychological Impacts of COVID-19 on Communities – Worshipful Society of Apothecaries of London, Faculty of Conflict and Catastrophe Medicine
Bringing the event to a close Chief of Staff of Óglaigh na hÉireann, Vice Admiral Mark Mellett, concluded:
"By creating opportunities to build on existing north/south collaborative efforts we create the conditions which enable us to work pragmatically to mobilise resources in our emergency response in the ongoing battle against COVID-19.

"Over the years the learning from our partnerships has been unique, crossing from the tactical to the strategic; institutions like the CAWT Partnership are the cogs that drive this multilateralism."