Deputy Chief Officer takes up new role of Chief Executive at Developing Healthier Communities
October 28, 2022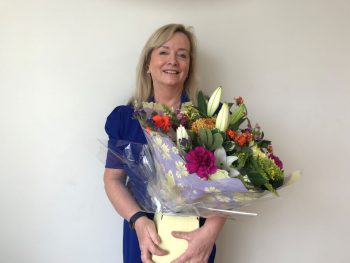 Edel O'Doherty, Deputy Chief Officer, left the CAWT team at the end of October 2022 to take up the role of Chief Executive of Developing Healthier Communities (formerly Derry Healthy Cities).
Edel has worked within a range of roles in the health and social care services for over 26 years, including as a Health Promotion Officer, Project Manager and for the last 15 years, as the Deputy Chief Officer with CAWT. During this time she led on many innovative cross border projects, mainly within the areas of mental health, disability, older people's services and population health.
Edel has been passionate about tackling health inequalities throughout her time with CAWT and has advocated for adoption of a collaborative approach to prevention and early support, to deliver a diverse range of interventions to the most vulnerable people within our border population.
Edel is a trained coach and derived great personal satisfaction from nurturing staff to develop professionally in order to meet their true potential.
At the informal staff gathering to wish Edel well for the next stage of her career, she commented:
"My greatest privilege has been to work with such highly dedicated and committed professionals within the CAWT Development Centre and across the CAWT Partnership. These staff, despite facing great challenges, live out the spirit of public service on a daily basis. I wish you all every success in the future."