10 years of cross border Humanitarian Disaster Assistance training
November 16, 2023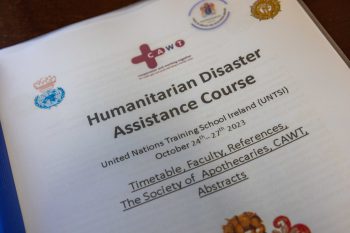 Preparing for local, national and international emergencies
This year marks the 10th annual cross border Humanitarian Disaster Assistance Course, which was hosted by the United Nations Training School Ireland (UNTSI) in the Curragh Camp in Co. Kildare.
Held during the last week of October 2023, the Course is co-sponsored and organised by the Co-operation and Working Together (CAWT) cross border health Partnership and Defence Forces Ireland.
This intensive, 3-day joint military/civilian training, is particularly relevant to those with responsibility for responding to major emergency situations on the island of Ireland, or to those likely to be deployed to disaster zones worldwide.
The cross border training focused on health-related issues typically associated with humanitarian responses to emergencies and disaster situations. Topics covered included the psychosocial and mental health of the public, professional responders and humanitarian aid workers in emergencies, protecting the most vulnerable groups in disasters and conflict, transmissible diseases, medical air evacuation of casualties, etc.
Representatives from a range of agencies benefitted from the intensive training delivered by experts, including health services medical personnel from both jurisdictions, Defence Forces Ireland, 2nd Medical Brigade, ambulance, police and non-governmental organisations (NGOs), all of whom have a role in humanitarian and disaster response, either domestically or internationally, or both. In total, 27 participants from a variety of sectors and agencies availed of this specialised training opportunity.
Commenting on the 10 year milestone reached, CAWT's Director General and CEO of the Western Health and Social Care Trust, Neil Guckian said: "Once again this cross border training provided an invaluable and unique opportunity for our health and social care medical professionals to train alongside other statutory and military personnel to support any multi-agency response to a major medical emergency situation. It has particular relevance for pandemic management as we deal with the aftermath and service rebuild associated with Covid-19."  He added: "Our support for this training is just part of the work of the CAWT cross border health partnership, which has over 31 years' experience of improving access to health services and facilitating greater integration between both health and social care services in the border areas."
Reflecting on the Defence Forces' longstanding relationship with CAWT, Major General Adrian Ó Murchú, Deputy Chief of Staff Support, noted: "CAWT has been a great catalyst for building excellent working relationships on these islands. No matter where we come from, or what organisation we represent, there are complex challenges to face every week and sometimes every day. The solution to those challenges is always the same – teamwork and collaboration with partners. Teamwork and collaboration only succeed when relationships are strong. That is why the Humanitarian Disaster Assistance Course is so important. It builds relationships, North and South, East and West, it builds trust, and ultimately it builds friendships, which have proven to endure long after the course concludes."
HSE's Chief Operations Officer and CAWT Management Board member, Damien McCallion said: "Such specialist courses enable our medical staff and health care professionals from both sides of the border to engage in practical training together. This bespoke training initiative provided another opportunity for agencies, including the HSE, to be prepared to deal with local and national emergencies and also to provide mutual support, where a cross border response maybe required."
Some of the comments received from course participants included:
"Excellent relationships formed. Very good course with great participants."
"I have gained invaluable knowledge and insight into humanitarian challenges."
"Those delivering the course are very experienced and engaged very well with the audience. Provided me with a deeper understanding of humanitarian needs."
The training was delivered by the Faculty of Conflict and Catastrophe Medicine which is part of the Worshipful Society of Apothecaries of London and is acknowledged as one of the leading training organisations in the field of humanitarian response training.
-Ends-