Brighten up your day with FREE wellbeing programmes
April 14, 2021
With the brighter mornings and longer evenings, why not boost your wellbeing with the latest offering of FREE online classes from Donegal Local Development Company (DLDC) & the Community Health Sync Project (CoH-Sync) as they continue to deliver wellbeing supports to the people of Donegal and surrounding counties.
Staff on the SEUPB funded CoH-Sync project are available to support people with their health & wellbeing. Each programme includes 1-2-1 personalised health plans and regular check-in's over a period of 5 weeks from Community Health Facilitators. These are delivered via phone and online.
Project manager Siobhan Coyle (DLDC) explains 'We are running online courses to support people to stay connected (socially online), learn a new skill or simply do something that takes our minds away from the Covid pandemic. These new programmes are open to people living in Donegal, Derry/Londonderry, Fermanagh, Tyrone and Leitrim who have not previously completed a course with us.  Free materials are available for the first 15 people who register for the 'Gardening' workshop and you can be sure to improve your fitness while also having great fun in our new 'Laughter Yoga' and 'Step Challenge' programmes'.
Comments from previous participants have been very positive:
''Pilates is a great way to build core strength from the comfort of your own home. The tutor is very knowledgeable and the follow up support was brilliant. ''
''Very professionally organised and facilitated, I felt connected to (my) community and I still use the Mindfulness I learned to sustain me in these difficult times''
''Rekindling my love for knitting has brought me a new found inner peace. It brings me back to my childhood and offers such pleasant memories''
''Learning to cook from scratch for my child has instilled real confidence in my ability in the kitchen. Simple and small steps are very achievable.''
Programmes are all delivered online and include sessions in Mindfulness, Home Décor, Movie Club, Smoking Cessation, Beginners Bodhran and Relaxation classes. All of the programmes are free and delivered online via private Facebook Groups or Zoom, for one hour per week, for a duration of 3-4 weeks A personalised health action plan & 5 weeks of support from Community Health Facilitators is available with each of the programmes.  The next block of workshops starts the week of April 26th.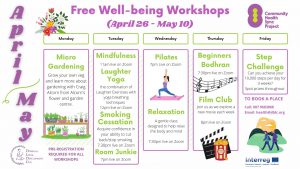 If you would like to find out more about any of the programmes or register your interest call 087-9683868 or emailing health@dldc.org
Registration Link:  https://forms.gle/P8M57FyRXSUNRPmE7
Detailed course outlines and start dates are available at: http://www.dldc.org/community-health-sync-project/