The CAWT Innovation Recovery Project showcased students' artistic talents at a vibrant and colourful exhibition held in Cavan Library during January 2020.
Praising their creativity and innovation Cathy McCloskey, Innovation Recovery Project Manager, said: "The ethos of recovery education is based on five interrelated processes: Connectedness, Hope and optimism, Identity, Meaning in life and Empowerment. The exploration of these themes is reflected in the art on display today. By using the CHIME model our students tap into their own personal resilience and strengths to become experts in self-care."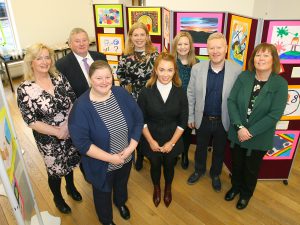 The cross border Innovation Recovery Project aims to empower and enable people to take greater control over their own mental and emotional wellbeing by providing education as a route to recovery. Courses are designed and delivered together by people with lived experience of mental health issues alongside health and social care professionals.
Welcoming the partnership approach Lorraine Kirwan, Peer Educator at the South Hub in Cavan, said: "I was delighted to hear about the Innovation Recovery Project and that people with lived experience were required to work alongside the health professionals to develop mental health education in the cross border region. It is absolutely my passion now, in my work as a peer educator, to get the word out that there is hope. If you have been diagnosed with a mental illness there is still hope that, by learning coping strategies and techniques, you can live a good and manageable life."
The Innovation Recovery project partners are the Southern Health and Social Care Trust, the Western Health and Social Care Trust and the Belfast Health and Social Care Trust (Northern Ireland); the HSE (Republic of Ireland) and the Public Health Agency and the Health and Social Care Board (Northern Ireland). Three cross border Recovery Colleges have been established in Northern Ireland and Ireland:
Area 1 West:           Derry, Letterkenny, Strabane and West Donegal
Area 2 South:          Cavan, Monaghan, Sligo, Leitrim and Fermanagh
Area 3 East:            Belfast, Armagh, Newry, Louth
Speaking at the event Kevin Curran, Co-ordinator of the CAWT Innovation Recovery Project in the South Hub in Cavan said "We try to reach people like young men, and minority groups like immigrants, travellers and people who traditionally do not present to GPs or mental health services but really need our support. The Innovation Recovery Team go into local communities, workplaces, and schools and colleges to provide information and deliver courses and workshops about looking after your wellness and taking care of yourself.
The CAWT cross border Innovation Recovery Project is funded through the European Union's INTERREG VA Programme, managed by the Special EU Programmes Body, and match funded by the Departments of Health in Ireland and Northern Ireland.
Looking to the future, Padraig O'Beirne, HSE Area Director of Nursing and Project Board member, said: "Today's event demonstrates the importance of CAWT's Innovation Recovery Project in bringing connectivity to the various cross border communities. It is most important that we work together to transform the way we deliver mental health services. Traditionally mental health services were developed and delivered by mental health professionals based very much on a medical model.
"Society needs to adapt a new model of mental health service provision, engaging with service users and their families, involving them in delivering the service because they have experience, through their own lived experience. This is very important when we look at developing modern mental health services that are forward thinking."
For more information on the CAWT Innovation Recovery Project South HUB (Cavan, Monaghan, Sligo, Leitrim and Fermanagh) please contact the regional office on 049 435 3188 or email Katherine.Lyons@hse.ie.
For information on CAWT's Innovation Recovery Project contact Cathy McCloskey, Project Manager, email: cathy.mccloskey2@westerntrust.hscni.net
Information about Innovation Recovery's online courses is available on Twitter at https://twitter.com/InnovationRecov and Facebook at https://www.facebook.com/InnovationRecov