Wellness Café and new recovery College courses in Donegal
October 8, 2019
An Grianan Theatre Letterkenny was packed to capacity for the joint launch of the first Wellness Café in Donegal and the Innovation Recovery Colleges' new Autumn/Winter prospectus.
The Recovery College prospectus provides people in the North West with the opportunity to learn new skills in their journey of mental health recovery. The CAWT cross border Innovation Recovery Project, via the HSE and the Western Health & Social Care Trust, has developed the new prospectus which is enabling people to access the courses in Donegal areas as well as within Northern Ireland. This cross border Innovation Recovery Project is supported by the European Union's INTERREG VA Programme, managed by the Special EU Programmes Body.
The prospectus details a wide range of free educational courses which are designed to promote mental health well-being and recovery. All the courses are written and delivered by people with their own experience of mental health issues, alongside those with professional experience and knowledge. The aim of the courses is to help participants tap into their own personal resilience and resourcefulness.
Both popular and new courses have been added to the prospectus so there is sure to be something to suit everyone, from those who have experienced the Recovery College before and those who have yet to give it a try. The courses give the participants or students the opportunity to become an expert in their own wellbeing and recovery. Some of the courses on offer include: Learning to Like Yourself; Living beyond Depression and Low Mood; Towards Wellness and Recovery; Living with and Managing Anxiety; Getting a Good Night's Sleep; Steps to 'Happiness' (how to select and use health Apps effectively);  Write to Recovery and many more.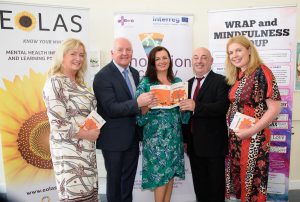 Pictured at the WHSCT recovery college prospectus launch are left to right: Edel O'Doherty- Deputy Chief Officer CAWT, Raymond Guthrie-Assistant Director of Nursing Donegal Mental Health Services, Tina Duffy-Recovery College Coordinator CAWT Innovation Recovery Project, John McCardle- Director of Nursing Donegal Mental Health Services, Cathy McCloskey-Innovation Recovery Project Manager
Courses are open to members of the general public and are free of charge. Registration for the courses is essential and anyone who would like to enrol or find out more information should contact the Innovation Recovery College West Hub on 028 7129 6183 from Northern Ireland or 048 71296183 / 00 44 2871296183 from the Republic of Ireland.  Many of the courses are proving to be popular so early booking is encouraged to avoid disappointment.  Feedback from those who have participated in courses has been positive. Comments such as these couple of examples have been received:
"I feel it is really important that there is always a person who has experienced mental ill heath delivering the courses along with a professional…..it just makes it more meaningful for me."
"I loved how the focus was on mental wellness and recovery methods rather than mental illness. I am glad the College was recommended to me and will continue to promote it to family and friends as I think it is a great wellness resource which is available to everyone."
Commenting on the new prospectus, Tina Duffy, Recovery College Coordinator for the Innovation Recovery Project West Hub said: "The Recovery College empowers people to manage their own mental health and to take control of their own lives.  The cross border Innovation Recovery project is enabling people on both sides of the border to access courses. The project is also bringing the courses to many rural locations in order help people access courses closer to where they live."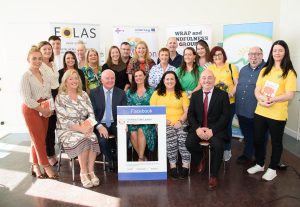 Representatives from the Letterkenny Wellness Café, the Innovation Recovery Project, CAWT, HSE Donegal Mental Health Services, Mental Health Ireland and Donegal Mind Wellness at the launch of the Wellness Café and Innovation Recovery Autumn/Winter Prospectus
Tina also outlined that: "Over the last few months a number of people with a passion for wellness have joined forces with HSE Mental Health, CAWT Innovation Recovery College & The Eatery at An Grianan Theatre Letterkenny to create the first Wellness Cafe in Donegal and I am delighted that as well as launching our Autumn/Winter Donegal prospectus today we are also jointly launching the Wellness Café."
The Wellness Cafe will run every Thursday in The Eatery at An Grianan Theatre Letterkenny and everyone is welcome to drop in between 10.30 am and 12pm.
The Wellness Cafe was set up for people to meet up in a relaxed informal space to connect and socialise with an opportunity to participate in workshops and other activities to support their wellbeing and to hear what is happening in their local area.
The Autumn 2019 Recovery College Prospectus can be downloaded here bit.ly/Prosp2019
For more information on the Café please visit Letterkenny Wellness Café on Facebook.
Notes to editors:
The CAWT cross border Innovation Recovery project is funded through the European Union's INTERREG VA Programme, managed by the Special EU Programmes Body, and match funded by the Departments of Health in Ireland and Northern Ireland.
The €7.6m cross border Innovation Recovery aims to empower and enable people to take greater control over their own mental and emotional wellbeing by providing education as a route to recovery.  Three cross border recovery college established in the Ireland/Northern Ireland are part of the Innovation Recovery project: Area 1 West: Derry, Letterkenny, Strabane and West Donegal; Area 2 South: Cavan, Monaghan, Sligo, Leitrim and Fermanagh; Area 3 East: Belfast, Newry, Dundalk.
The Innovation Recovery project partners are the Southern Health and Social Care Trust, the Western Health and Social Care Trust and the Belfast Health and Social Care Trust (Northern Ireland); the HSE (Republic of Ireland) and the Public Health Agency and the Health and Social Care Board (Northern Ireland).