In Focus: Hannah Millar, Innovation Recovery College Coordinator
May 25, 2022
As Innovation Recovery College Coordinator, Hannah aims to empower and enable people to take greater control over their own mental and emotional wellbeing by providing education as a route to recovery.
Name: Hannah Millar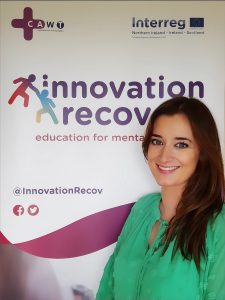 Company: Southern Health and Social Care Trust / CAWT Cross Border Health
Role: CAWT Innovation Recovery College Coordinator
1.    What was your first job?
My first job was working at a cafe in St. George's Market, Belfast. It was great fun and I still love visiting!
2.    What qualifications do you have?
My background is in Psychology, I have a BSc in Psychology; MSc in Applied Psychology; and a PgDip in Healthcare Leadership. I'm also a Quality Service Improvement and Redesign Practitioner. I previously worked in various mental health settings before moving into Healthcare Leadership via the NHS Graduate Management Scheme. I now manage the CAWT Innovation Recovery College, East Hub. My role as Recovery College Coordinator combines my passions for both mental health and healthcare management.
3.    What do you attribute your success to?
For me, it has been the support of my family, friends, and colleagues. Working as part of a great team is a huge factor in my opinion. I hold responsibility for the day-to-day management of the CAWT Innovation Recovery College East hub which covers the areas of Belfast, Newry, Armagh, and Louth. My role includes ensuring the College provides high quality recovery orientated education which is led by our Peer Educators and supported by healthcare professionals. I also engage in the development, promotion and evaluation of the Recovery College and oversee the design and delivery of our courses. Overall, I think it comes down to determination, hope and optimism, resilience, and hard work! Also being prepared to take chances, risks, and recognising opportunities for development.
4.    How would you describe yourself to someone who'd never met you?
I'm curious, career driven and passionate about work. I'm also always up for a chat and care about others. I would hope that people would find me friendly, approachable and personable.
5.    Who do you look up to in business?
The CAWT EU INTERREG VA Innovation Recovery Colleges help build mental health resilience across border regions, through the provision of education and training. We help people to tap into their own personal resilience and resourcefulness, become experts in their own self-care and work towards achieving their goals and ambitions. Importantly, all our courses are co-designed and co-delivered by people with lived experience of mental health difficulties alongside those with professional experience, which I find so inspiring. This gives people the opportunity to hear and learn from the perspectives shared by service users, carers, families, friends and staff.

I really look up to the people around me and have learnt so much from my colleagues over the years. I am particularly inspired by female leaders within the NHS and I'm lucky to have had a lot of great line managers to take inspiration from. I admire those who aren't afraid to challenge to initiate positive change and improvement.
6.    How do you get the best out of people who work for you?
Compassionate and collective leadership approaches are important to me, and I try to implement these strategies into my own leadership style. This includes focusing on leading with care, creating positive cultures and shared vision, encouraging staff engagement, promoting fairness and transparency, recognising, and valuing staff contributions, and supporting staff growth, innovation and development. Building trusting relationships with your team and taking the time to get to know each person is really valuable.
7.    What website or app could you not do without?
Google Maps – I have a terrible sense of direction!
8.    What was the last book you read?
'The Power' by Naomi Alderman.
9.    What car do you drive?
A Volkswagen UP. It looks like a washing machine on wheels so I've called it Daz.
10. Tell us something interesting about yourself?
I'm a 'Champion for Deaf People' aiming to improve accessibility to healthcare services by supporting others to understand and remove barriers that deaf, hard-of-hearing people may face. I'm interested in the area due to my own severe-to-profound deafness which has led to a desire to contribute and make changes where possible – even in a small way!
11. What's your greatest passion outside work and family?
I really enjoy the outdoors and getting out for walks and hikes. However, I've been told I walk like I'm competing in an Olympic sport so I'm working on slowing down a bit!